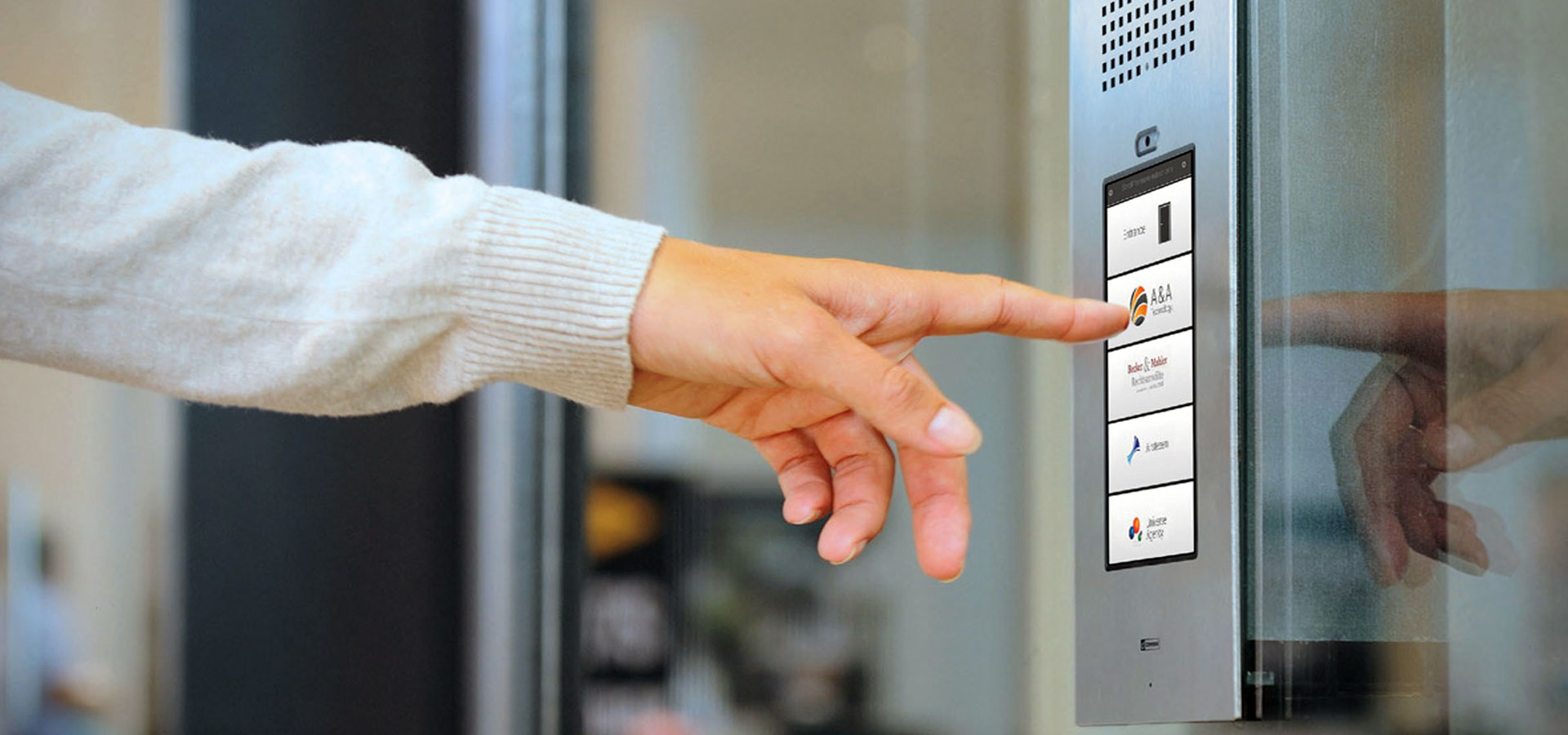 If you are in need of a visitor monitoring video intercom system that works in all conditions with a very high level of quality solution installed by a reputed security professionals, We can offer you a complete options available for your organization at the most affordable cost in Qatar. We at Adax are second to none as supplier installer and integrator of both audio and video Intercom systems for commercial and residential buildings.
The field of security has been the principle area of specialization for Adax and we have always introduced new Hi-Tech security devices in order to be ahead of our competition The Video and audio Intercom system was one such device which enabled to strengthen security and provide more than just protection.
Video Intercom Systems work with controls that give the client not only the ability to know when someone is present outside but to see and communicate with them from a safe distance. Adax is partnered with world class vendors in providing the state of the art technology to ensure a zero breakdown policy of its solutions.
The installation of this service can be integrated with complex and sophisticated systems to meet the demands of the client's security levels. Adax has worked alongside large diplomatic organizations with some of the highest security levels and ISO standards followed at every stage of implementation to ensure a successful completion.
Customized Benefits and Features

Wireless Connectivity can be integrated in creating a solution that will best suit the client's demand. High Resolutions of camera is a preference to the solution to enable a clearer image with quality captures  in creating an efficient solution to extract greater value from the solution.
We also install IP based Video and audio Intercoms systems which can also act as Access Control systems at the doors and entrances of buildings and offices These solutions are integrated in creating a secured environment that acts as an additional security procedure for high security zones. The solutions can include a variety of applications that will differ for clients and their security levels.
Our intercom solutions include call buttons and door lock release buttons
The video intercom model can be integrated to work with IP Camera that is accessible from any PC or smart phone.
Integration with IP based access control systems will strengthen security.
Our Video Intercom for your Organization

The intercom solutions we provide are integrated can be both analog and IP based system and are easy to be installed

Read More
The implementation of video intercom systems is tested at every stage of installation and checked for defaults. Adax also provides after-sales service to ensure the durability of the solution to ensure optimum utilization and improved operation of the product. We are best at the security solutions company in Qatar, UAE . The surveillance and security solutions we provide are guaranteed to secure your premises and create a safe working environment.
Samsung Smart Home Solution The development in smart home cadets had seen several companies completing in the industry. home security are now smarter and accessible than they have ever been....

IP Based PA System Improves Audio Solutions IP Systems is integrated with all of the new technology in the security industry, the Public addressing (PA) systems and intercom systems are...

A SMARTER VIDEO MANAGEMENT SYSTEM TECHNOLOGY FOR LARGE SCALE OPERATIONS. Video management software  (VMS) is the brain of a video surveillance solutions and a  smart VMS can create an...
SEE ALL
Address: Aziziya Commercial Complex, Al-Aziziya, Doha, Qatar
+974 4468 5049
+974 6624 4699