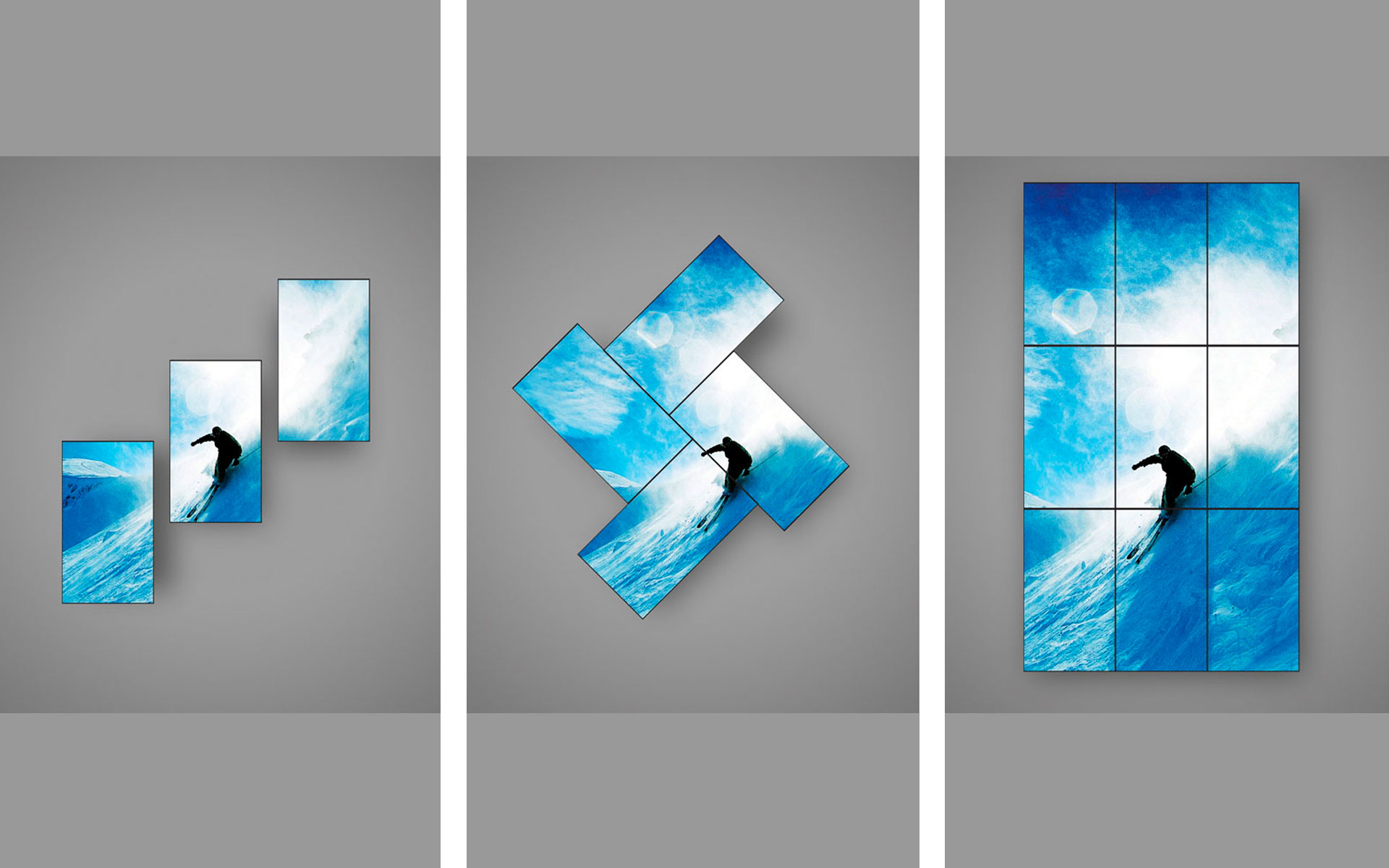 DIGITAL SIGNAGE AND VIDEO WALL
DIGITAL SIGNAGE SOLUTIONS USING SMART DISPLAYS AND VIDEO WALLS
If you are in need of a most modern digital signage solutions displaying your company advertisement videos , public announcements by digital ways using smart large LED/LCD display screens , video wall displays , LED display screens integrated with a central control unit and signage management software by which content video can be updated and scheduled , We are professionals in providing, installing , and integrating smart digital display signage solutions and systems in the state of Qatar . We use most modern technology to enhance the display and content playing of your company message or advertisements in the most stunning and lucrative display . Adax has extensive experience in such solutions of video walls , LED display screens for large venues like parks , stadiums etc in Doha Qatar, UAE. We will ensure you have a perfect digital signage advertisement display package that will boast your information or advertisement displayed. Our solutions in signage have been unique and are customized in providing the client with a user experience that will show cast their message in the most appropriate display as per the clientís requirement.
Our solutions are meant to help you with a complete digital signage solution that includes configurations and deploy of our solutions to help your product or brand stand out in the market. We are able to integrate your network for an efficient delivery of your content, thereby heling you select and implement an efficient solution with a cloud support if required. Our customized configuration, the warranty/maintenance contracts and the professional services helps us give you a truly tailored solution for your requirements.
What is CONTENT MANAGEMENT SYSTEMS (CMS) ?

Digital Signage Software allows the remote management of a network via a web-based portal. Access to content and scheduling tools on multiple screens give network administrators the ability to entertain, inform, and educate audiences, from and to any location worldwide.
Digital Signage Media Players for content playing: Media players are small form factor PC s embedded with digital signage player software which will be communicating each display screens where the video are played.
Touch display Screens & Non Touch Screen:

Non-touch displays: These are Full HD/ 4K resolution slim bezel LED display screens used for digital signage solutions Such screens are meant for 24/7 operation of content video .LED screens used for video walls can be with very small bezel thickness .Designed for creating videowalls in a variety of shapes and sizes, to fully communication your brand in a spectacular

Continue Reading
Touch display Screens & Non Touch Screen:

Touch screen: Which are also known as interactive screens  are especially designed for commercial use. Display screens has to be robust and stylish design ensures flexible usage in an array of environments. The interactivity of a screen can help you  an understanding of your audience behavior and preferences, giving you the chance to adjust to a more targeted and personalized

Continue Reading
Digital signage solution for retail outlets, shops
Consumer behavior is highly influenced by the method of displays and signage solutions you have at your retails shops. The decision-making process of the customer can be highly influenced by the unique digital signage strategy.
There are multiple ways in which a digital signage strategy can be deployed in retail shops:
As digital signage can be updated frequently, owners can communicate appropriate messages at right time like instant offers and so on.
It grabs a lot of customer attention.
All items at the store can be displayed digitally.
Can create some fun and entertainments for the customers with interactive touch screens.
Self Service kiosk can be made suing touch screen and software.
Analyze shopping behavior based on age, gender, viewing time.
Digital signage in transportation
A digitally available information for your travel plans can be useful more than a static information, menu, routes, options, maps can be integrated with an interactive screen options providing updated information for transportation facilities. The possibilities of digital signage are quite vast, and despite the conventional signage that has been implemented for years, digital signage can be so much more versatile.
Digital signage in transportation can enhance the travel experience in the following ways:
Digital display of Way finders is much useful than static displays.
Can be updated frequently with latest status and information through your network
Integrate real time information such as weather, traffic info, special announcements and/or social media.
Kiosks for self-service ticketing and check in can be made.
Additional revenue for the company using these digital signage display boards for advertisements
Digital signage in hospitality
Digital signage solution implemented at the hotels can enhance your guest experience. Making information digitally available with an interactive touch screen are most useful in making an outstanding customer experiences at the hotels. Online check-in at a hotel, a digital menu board that switches automatically from breakfast, lunch to dinner or even ordering kiosks are a few examples of making the life of your guests easier and the experience richer
Digital signage can add value to your hospitality environment in various ways:
Can be used as a way finder for customers to the lobby, pools, bars, playing areas etc.
All information on latest offers, tourist information, availability information can be displayed digitally.
Used as digital menu boards at the restaurants.
Online check-in terminals can help speed up the process.
Entertainments and funs for guests can be created using digital interactive displays and screens.
 Digital signage in finance and banking
Digital Signage at the banking provides latest information on all the service, offers to the customers, all the content display at the branch office can updated from central location bank head office providing latest information's.
Features of our Digital Signage Solution
Interactive characteristic
Digital signage can be used as an interactive method of advertising that enables the client to collect data from individuals and to do research on the Product/ Business development
Social Media
Digital signage can work alongside with social media in creating a dynamic real time information delivering entertainment, being resourceful and acting as a promising advertising campaign
Performance Guaranteed
Commercial Grade display are able to communicate in the most attractive ways with a greater durability and flexibility in the solution with limitless possibility that ensures a guaranteed outcome as the effect of using multimedia for advertisements can be of great use
Real Time
The information on the digital signage can be edited and altered on a real-time basis across various locations, the content management ensures the ability to manage screes across multiple platforms.
Savings
Various additional cost is eliminated with the use of digital printing as there is time and money saved with the display on information and promotions on the digital screen, this new advancement in technology cuts various costs.
INFORMATION: Organizations use digital branding for the purpose of informative advertisements, information with regard to company new products and services, information with regard to the recent updates or location change and so on. This information can help the general public to be informed about the present context of the organization. Several companies use digital boards to advertise information relevant to

Continue Reading
ADVERTISEMENT: Competitive markets demand good and innovative advertising campaigns and digital signage has been the fastest growing method of advertising for the past years. This form of advertising using technology to display their messages helps catch great attention. The mode of display has been well received by the public compared to traditional posters and leaflets that were used to display

Continue Reading
BRANDNG:  Our access control system works in complex situations providing complete automated solutions to exercise a fool proof system which is able to detect error and unauthorized access at all entry and exit points. A complete time spent of the employees within the premises and the areas of visit by the authorized persons can be tracked.
Adax has worked with very prestigious brands in the recent past to design, create and implement digital signage solutions for retail, hospitality , and  banking sectors in Qatar . In an era of technological revolution, digital signage has an immense competitive advantage compared with traditional signage.
Samsung Smart Home Solution The development in smart home cadets had seen several companies completing in the industry. home security are now smarter and accessible than they have ever been....

IP Based PA System Improves Audio Solutions IP Systems is integrated with all of the new technology in the security industry, the Public addressing (PA) systems and intercom systems are...

A SMARTER VIDEO MANAGEMENT SYSTEM TECHNOLOGY FOR LARGE SCALE OPERATIONS. Video management software  (VMS) is the brain of a video surveillance solutions and a  smart VMS can create an...
SEE ALL
Address: Aziziya Commercial Complex, Al-Aziziya, Doha, Qatar
+974 4468 5049
+974 6624 4699