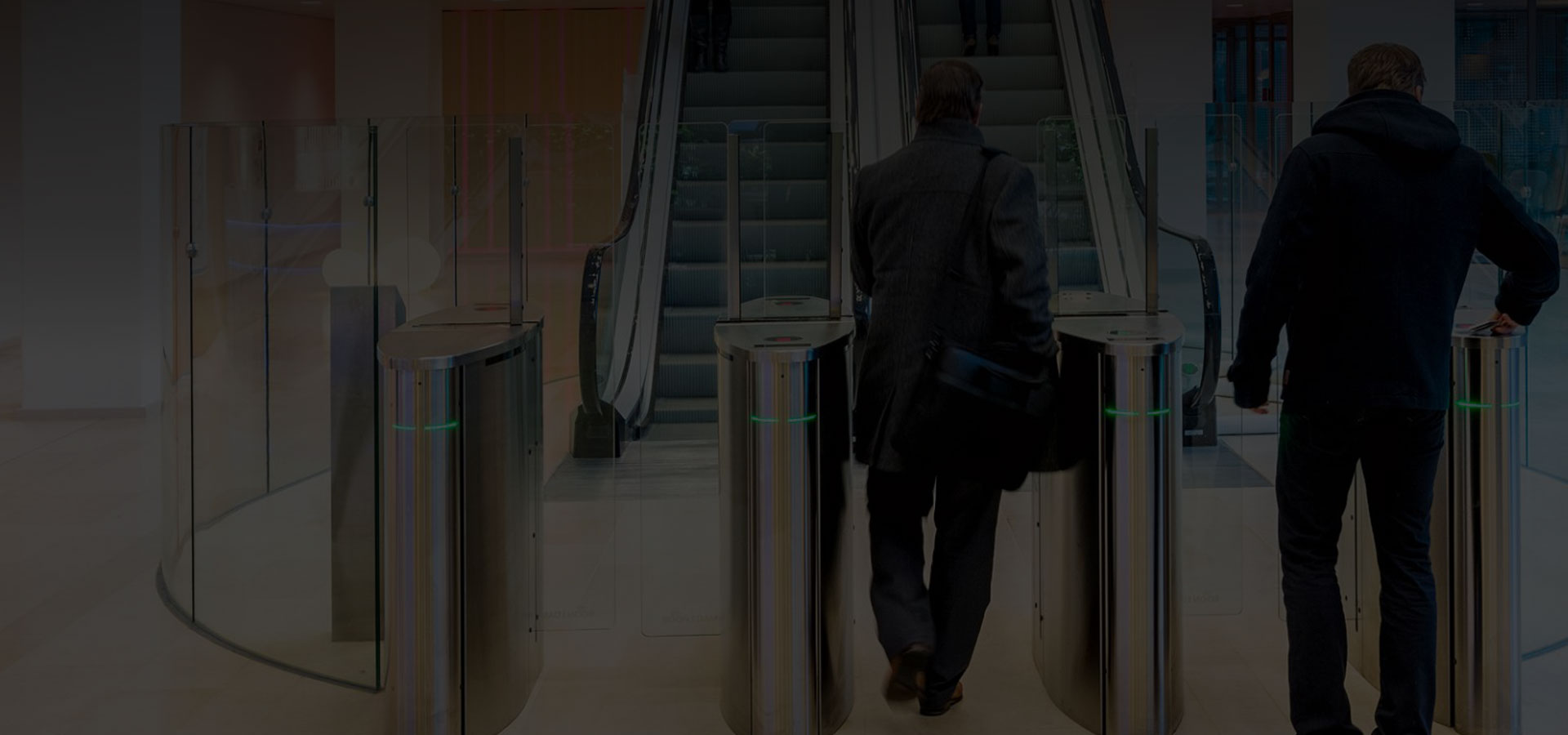 FLAP BARRIER & TURNSTILE GATES
Smart Flap Barrier Gates And Automatic Turnstile Gates
Do you want a solution from your requirement for smart flap barrier gates used for a secured access system?
OR
Are you looking for an automatic turnstile gate system for managing people entry?
What is a Flap Barrier Gate ?
Flap barriers are the types of electronic smart gates which operate automatic with a sliding wing glasses and motors . They are used as access security gates at the buildings and offices.
Our Flap Barrier Products : Please Click here
Flap barrier gate is also known as hidden glass gate and speed gates. This type of gate is used in the ports as E gate Entry system
What is Turnstile Gate ?
Turnstile gates are the types of steel gates which will rotate with the help of a motor to control crowd movement. Both act as automatic security gates at the entrances as a part of access gate solution.
Our TurnStile Gate Products : Please Click here
We Adax Qatar
We are a well known supplier, installer above mentioned smart flap gates and turnstile gate solutions in the state of Qatar. Being an established security system company in Qatar, we will be able to support you with outstanding sales and technical support
Please contact us to get a Quote : Please Click here
Key Features of Our Flap Barrier and Turnstile Gate Solutions:
Stylish And Sleek Designs
Integrated Smart card and Biometric Readers
Integrated Access Management Software
How a Flap Barrier Solution Works ?
A flap barrier operates with a sliding wing glass and motors. We can operate the motors with a trigger to open the glass gate. Motors can be triggered with the use a button, remotes, smart cards, and biometric identification readers such as finger print and retina.
You can control, monitor, register and track the visitors at your offices using this type of automatic hidden gates
Flap Barrier Integrated with Biometric readers and swipe smart card machines
An automatic flap gate can be integrated with biometric readers and smart card readers
Biometric readers and smart card machines identifies authorized person and open the smart flap gate, enabling people access highly secured
Our Specialized Software for Visitor Access Management
We do provide a comprehensive visitor management software for the access control. This software is integrated with biometric readers and smart card readers
We can install biometric readers and smart card readers with smart flap gates and turnstile gates to authenticate the entrance
Software will record all the details of the people and visitors accessing the smart gate, so as to give the management a detailed report on who accessed the gates and when.
Biometric readers commonly used are fingerprint or Palm Vein machines (PVR). These kind of gates are used as smart e gate system at the ports, metro stations and highly secured places
How Adax Can add value to our customers for the installation of smart flap gates and turnstile barriers ?.
Is your solution requirement is for a false proof security solution with an automatic smart hidden swing gate system for your lobby security access control to provide your company with a complete recording and tracking of visitors and employees or other stakeholders exploring your head office, branch office, site offices or visiting your construction sites
We, at Adax business systems add to value to our prestigious customers in the state of Qatar in providing world class solution for the installation of a smart security solutions . We don't sell security products rather we believe in catering solutions which will meet the security requirement of each client
We have formulated a process to understand each client requirement. We assess and analyze the security requirements of individual client taking into consideration with threats and problems of every aspect
The analysis will help the technical team in creating a solution accommodating the requirement.
We are a leader for the security systems in the State of Qatar
As a leader in security solutions across the Qatar, our company has a remarkable experience as supplier, installer, and integrator of such smart security access gates using flap gate barrier, hidden swing glass gates, turnstile gate solutions for many projects in Doha Qatar
At Adax we believe in quality solutions that help in doing the assigned job in the most productive and efficient perspective, the access control systems we provide in authorizing both entry and exit in creating a safe environment is of the highest standards with certified engineers and are tested to perfection. The variety of flap barriers and turnstiles we provide in our solutions is vast and they accommodate the demands of clients with a variety of requirements and tailor made integrations. This hardware is controlled by efficient software that is able to generate a numerous number of reports in providing the management with information that will assist in decision making
Our partnerships with Ozak, Turkey and Matrix India PVT LTD in Providing Smart Security Solutions
Our partnership with security solution manufactures like OZAK, Matrix Comsec India PVT, Enable us to cater systems and solutions which are up to the market bench mark. Ozak is a Turkish manufacturer for high quality flap barrier gates and steel turnstile gate. We have completed many successful projects in Qatar with ozak security products
To read more on Ozak : Please Please Click here
Matrix is a well known manufacturer of reliable biometric and smart card readers with management software. Matrix management software can generate various reports to help you to take many security management decisions.
To read More on Matrix : Please Click here
How our Solutions best fits your requirement of automated smart security access flap gates and turnstile barrier gates

assistance of smart and secured flap barrier gates to restrict authorized entry in large crowds of people in business environments or public locations with customized configurations of the clients requirement

Read More
Turnstiles  and Flap Barriers
Key features of our smart access control module integrated with our turnstiles and Flap Barriers using biometric and RFID smart card readers
Access Control Modes
A variety of modules is available from biometric, RFID Cards, tags and so on, these devices can be integrated to create a centralized access control system
First-In User/ Multiple Person
Access Control is a system which works with the entry of access only if the authorized first entry person or two persons with authorization entry is present at a time of entering a particular area
Anti-Pass Back
is a system developed to prevent deceit in the use of an access control smart card. A smart card will be programed for a single entry and the exit system prevents a second entry into the premises
Guard Tour
facilitates enforcing vigil patrol of security guards or such pre-fixed movement of other people who are to present their credentials at defined checkpoints at specified time periods. Deviation can trigger immediate notification
Dead-Man Zone
is a system of control that is essential to track the physical safety of an employee making it compulsory for the employee to confirm his presence at pre-defined intervals. Failure to punch may activate an alarm to draw attention
Man Trap
is a system developed to regulate the flow of authorized individuals or to restrict the number of entry into premises at a given time period
Do Not Disturb (DND)
is a function which restricts the entry of personnel until the access control is acknowledged. This is ideal for conferences or within floors to adopt privacy within teams or groups in an organization
Route Based Access control
ensures that a specific route is followed by the user to restrict the use of unauthorized pathway in high security zones. This can be ideal for third party entry with a specific job in an allocated location in the premises
Occupancy Control system
is limiting the head count per allocated space. Entry of allotted users will trigger the system to block further entry. This access control feature best suits a scenario with limited space and high flow of personnel
Smart Identification
works in an environment that provides access to a group of individuals, ideally a work place which requires accurate information. The Smart card can be embedded with employee details that work along with the other credentials
Our flap barrier and turnstiles operate in both directions and we do have gates suited for handicap entry

when these  barriers  installed support RFID smart card, swipe card access readers, biometric access control readers, it also support integration with  token acceptors, Entry Ticket Readers, Barcode Readers or other remote devices, push buttons that authorizes a clean contact. Our systems can be integrated with Venue or stadium ticketing systems and solutions to allocate large crowds of people or visitors.

Continue Reading
System integration done in a variety of techniques for clients

existing system integrations for clients with systems already in place but prefer a better solution to create a secured and upto date solution. The access control like swing glass gate barrier, steel turnstiles, boom barriers will require software integrations and Adax is able to work with visitor's access management software that work along with both contact / contactless smart card

Continue Reading
At Adax we have partnered with some of the best known vendors of turnstiles and flap barriers in the industry and our renowned access control software gives a smooth operation of these devices with the utmost efficiency in creating a perfect solution for your organization. Adax has successfully installed these solutions across Qatar in high security zones with very high profile clients. Our quality solutions have been trusted in many industries across the proud nation of Qatar. Contact our company to install, supply and integrated the best suited steel turnstile and smart flap barrier gate at the most affordable with the highest quality available in the market.
Samsung Smart Home Solution The development in smart home cadets had seen several companies completing in the industry. home security are now smarter and accessible than they have ever been....

IP Based PA System Improves Audio Solutions IP Systems is integrated with all of the new technology in the security industry, the Public addressing (PA) systems and intercom systems are...

A SMARTER VIDEO MANAGEMENT SYSTEM TECHNOLOGY FOR LARGE SCALE OPERATIONS. Video management software  (VMS) is the brain of a video surveillance solutions and a  smart VMS can create an...
SEE ALL
Address: Aziziya Commercial Complex, Al-Aziziya, Doha, Qatar
+974 4468 5049
+974 6624 4699