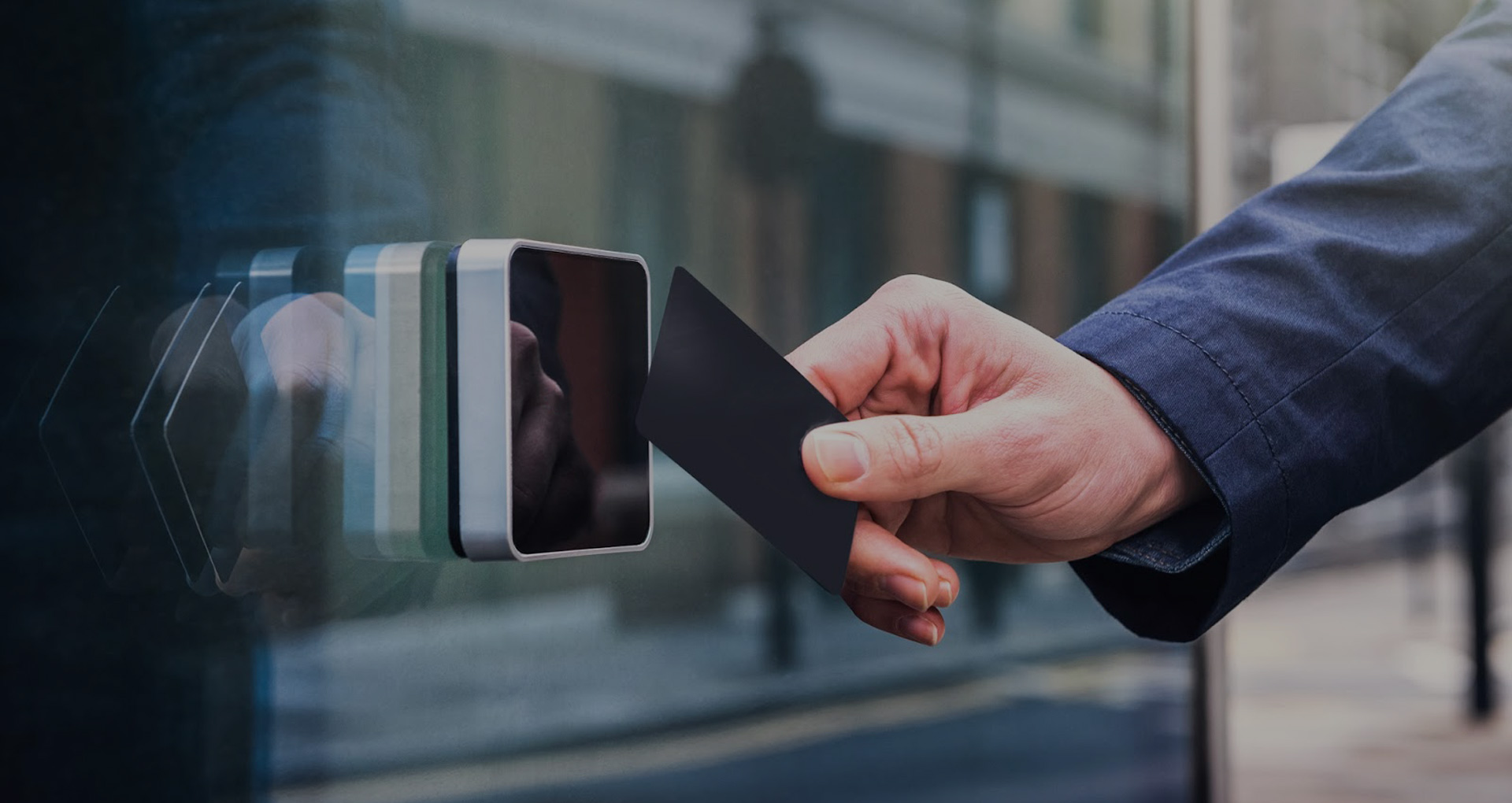 Door Security ACCESS CONTROL SYSTEM Provider in Qatar
If you are looking for an access control system or door access control solution as a part of your door security system to make your doors and gates highly smart and secured, You are at the right place. We are here to help you with best system for smart door access solution in Qatar.
Access control system is one of the smart door security system making your doors and entries secured.
Please Click Here to contact us to get a Quote on our access control solution.
Being one of the leading security system companies in Qatar, we can support you as a supplier, installer of such automatic door lock system for your door access security solution requirement
Please Click Here to know more about our door access control product ranges
Many Companies and large organizations have adopted our professional service in terms of consultancy and implementation of highly reliable and secured automatic smart security system for their door access control solution requirement in Qatar
These are also known as electronic lock system as it is functioning with electromagnetic lock. Common types of machines are, smart card access control machine, Biometric door access machine, Fingerprint access device . RFID based and PIN number based door access security machines are also prominent in the market
Access control solution, being one of the smart method to keep your places safe from security threats. Door access security system enables you to restrict and permit only authorized persons to enter through your doors and gates.
Where as an Un authorized person is unable to open the door which is with such smart security access system. This security access system enable entrances of offices highly secured.
We have partnered with well known access control system brand Matrix Comsec to provide world class solutions to our clients in Qatar.
Click to Contact us to get a Quote
BENEFITS OF IMPLEMENTION OF DOOR ACCESS CONTROL SOLUTION
Door access control solutions based on User, Zone and Time
Palm Vein and Multispectral Biometric Fingerprint Access Control solutions
Secure Sensitive Areas with Advanced Access Control Features
IP based Architecture to Enhance Reliability and Scalability
Centralized access control system with Monitoring and Control of Multiple Devices and Locations
Get Real-time Notification on Exceptions
Integrate Fire Alarm and other Devices for better Safety and Security
Please click here to know more about our product ranges
How a Smart Door Security System works?
We can deploy a smart door security systems with biometric readers, finger print scanners, RFID PROXIMITY swipe smart card machines so as to verify the credential of an authorized person to allow or stop them to enter through each entrance of your building and premise.
In addition to this, People also use PASSWORD PIN NUMBER BASED devices, LONG RANGE UHF MACHINES to authenticate such entries. Biometric readers use fingerprint, palm, face as detection credential to access the door.
In an access control system, smart card readers with RFID smart card or biometric readers can be used as identification method to allow access. Recently, due to adoption of modern technologies in the field of electronic physical security systems, authentication methods like smart Mobile phone based, QR code based systems, blue tooth BECON are also prominent in the door security access solution market.
Thus the use of mobile application in access control systems makes modern physical security solutions really smart. The main access control credential verifying machines is to connect to an electronic strike lock which is also known as electromagnetic locks. Electromagnetic locks hold the door with electromagnetic power.
So a secured access control solution is a combination of an authentication machine, doors or gates, electromagnetic locks and related accessories such as push buttons to open the doors, and access control management software.
How important is Automatic Door Lock Access Control for a firm?
Access control system which is also called automatic door lock system is vital for any company to make its people and staff secured and safe from all the security threats. Preventing un authorized entry is so crucial to safeguard the belongings of your employees. Thus the significance of door security system plays very important role in managing the people access at your offices.
Smart access control solution makes your environment smart and secured using most modern technologies.
How We Became Leading supplier of Smart card Access Control , Biometric door access system in Qatar?
We are well known professional company in the state of Qatar with extensive experience in the supply and installation of many smart security access control system projects.
We, Adax Security and business system take turnkey projects in terms of various physical security solutions. Our approach is distinct and well accepted by our happy customers in Qatar market.
We take up the project from design stage to entire life cycle of the project and sign off only after ensuring our client place is fully secured. Once we have a requirement of a door access control system, we analyze and conclude which are the credentials to use. Hence the access is restricted by showing the swipe smart card or finger print then, accordingly we select the main access control device depending on the requirement of the client. There are various biometric readers and smart card machines available with us.
Our Approach towards providing cutting edge solutions are distinguished with our skilled professional team of engineers are able to analyze the scenario of an individual client security requirements . Requirement study is based on the question.
Who ,When , Where . then we identify the security level, Then we choose the correct credential requirement according to situation,if it has to be a biometric identification device / Smart card identification method / password code identification machines. Once our system is in place, we assure companies with an automated access control solution that tracks, monitors and controls all stake holders who enter and exit the premises at all times.
Also ,while designing an access control solution project, we consider many aspects such as, security level, cost, reliability, ease of use etc. Our happy client list and project track record shows how distinct and professional we are with various systems we deal with. We have successfully completed many door access control system projects across the Qatar in a variety of industries with diversified requirements
What Are the Advantages of Our Access Control Software in a Door Access Control?
Our access control software which is developed by Matrix Comsec India PVT LTD is web based software platform and able to manage all the door access equipment centrally at centralized office location. Central management of access control machines in large scale project makes the implementation easy. Web based or cloud based software will provide the organization a centralized door access management solutions helping to monitor, record and control of all the doors, entries and exit points from a single point. As our access control devices support LAN, WIFI protocols, customer can use their existing network infrastructure for the implementation of the system.
Such centralized managing software gives a detailed report on who accessed each door, when and how?. Many access policies can be created depends on the client requirement. This can be zone restriction policy, area and time zone access restriction, who all are in report, visitor report etc. All these door access reports can help management in taking many key decisions in terms of security. complex access control policies accompanied with a smart reporting software features are, Access Zone, time zone wise access entries, dead man zone, man trap, who is in report, People entry report, access log report, don't not disturb policy ,guard tour and so on. We accommodate all the specific requirements with the latest access control solutions technologies to improve security safety and ease the complications of any company policy.
Integrated Security Systems With Door Access Control Solution
Our services support a variety of applications to suit individual cliental needs with the likes of centralized door access control solution. multi-location access control system, Access control system integrated with fire alarm, building management system, elevators (lifts), vehicle access parking barriers, automatic vehicle parking access system, visitor management flap barrier gate, steel turnstile gate, visitor access management system.
Integration of access control solution with other system such as Surveillance Camera for snap shot integration are also possible, As Glass sliding Doors, wooden doors, shutter doors Electrical Magnetic Doors are some of the types of access doors, our solution will work with this. We can also connect Lift and elevator access control, emergency push buttons, video door phones, remote controls. We also provide simple stand alone low cost access control machines and systems which will help in creating a countless variety of reports that could assist the management in taking proper decisions.
Customized Door Access Control Solutions for the Market of Qatar
Preciously ,Our Automation system in terms of electronic door access control security solution is able not only to control and monitor authorized personals but adjust to the market needs and work as a smart access system to secure all aspects of work place. The solutions we offer are many times customized according to the market requirement.
The Qatar market is one of the fastest growing markets in the world with a great degree of attention given to the safety and security of an organization. Large multinationals and joint ventures present in Qatar involved in the development of this nations acquire high standard of security solutions. Adax has been ahead of its market providing high quality security solutions in Qatar. Specially access control being a vital part of physical security solutions.
Key Criteria While Deciding a Door Access Security Solution
Who, When and Where
Are the three factors which we can consider at the time of designing a door access security solution. specifically for every client as this three information will determine the level of security, the access points in an organization, the feasibility of our hardware and it will help Adax recommend the best possible access control solution for the client. The study of the above three criteria's will determine the features that will need to be installed to the system to improve the access control system.
Find out how our tailor-made Door Access Control are distinctive and considered to be the best in both Qatar and UAE market !

The Matrix Cosec is a smart and proactive access control software that works with planning and optimal use of resources. Our system ensures that all the access points of an organization in various locations or levels are collected and centralized using Network Based system. This systems work with all methods of input both biometric and RFID card readers or other access control devices. We provide specialised access control solutions for data center racks to monitor authorized access for each rack. Our tailor made access control solution for Lifts and elevators restricting lift access are suitable for highly secured places, hotels , motels and so on.
Door access control Devices
Despite our strong software, we do provide a high quality hardware machines that supports various credentials like biometric finger print identification, smart card identification, palm vein identification and all our devices are network based.

Access Control Software Features
Access Control Modes
A variety of modules is available from biometric, RFID Cards, tags and so on, these devices can be integrated to create a centralized access control system
First-In User/ Multiple Person
Access Control is a system which works with the entry of access only if the authorized first entry person or two persons with authorization entry is present at a time of entering a particular area
Anti-Pass Back
is a system developed to prevent deceit in the use of an access control smart card. A smart card will be programed for a single entry and the exit system prevents a second entry into the premises
Guard Tour
facilitates enforcing vigil patrol of security guards or such pre-fixed movement of other people who are to present their credentials at defined checkpoints at specified time periods. Deviation can trigger immediate notification
Dead-Man Zone
is a system of control that is essential to track the physical safety of an employee making it compulsory for the employee to confirm his presence at pre-defined intervals. Failure to punch may activate an alarm to draw attention
Man Trap
is a system developed to regulate the flow of authorized individuals or to restrict the number of entry into premises at a given time period
Do Not Disturb (DND)
is a function which restricts the entry of personnel until the access control is acknowledged. This is ideal for conferences or within floors to adopt privacy within teams or groups in an organization
Route Based Access control
ensures that a specific route is followed by the user to restrict the use of unauthorized pathway in high security zones. This can be ideal for third party entry with a specific job in an allocated location in the premises
Occupancy Control system
is limiting the head count per allocated space. Entry of allotted users will trigger the system to block further entry. This access control feature best suits a scenario with limited space and high flow of personnel
Smart Identification
works in an environment that provides access to a group of individuals, ideally a work place which requires accurate information. The Smart card can be embedded with employee details that work along with the other credentials
How Software is used in Managing Door Access systems and Solutions?

The use of software in access control system enhanced full automation of the system with varieties of report generation, integration & interfaces with other security solutions

(Read More)
Why Automated Access Control Systems is vital for an Organization?

Assistance of technology for a secured and smarter working environment, in a world of technological advancement the entry to automation to create an authorized entry has strengthen the security level for Business world wide.

Read More
Adax provides comprehensive, modular, and reliable systems for access control and time management using renowned systems and solutions with positive reviews from every industry. At Adax Qatar and UAE, we provide profound access control systems integrated with surveillance systems, flap/ turnstile barriers, electrical magnetic doors, elevator access systems, and other forms of access control hardware devices developed towards the improvement of security levels for specific organizational demands. We help our clients to track and record access details to produce a variety of management reports.
Contact us to have the most appropriate access control solution for your organization that helps in creating a well-managed and secured working place within your organization.

Samsung Smart Home Solution The development in smart home cadets had seen several companies completing in the industry. home security are now smarter and accessible than they have ever been....

IP Based PA System Improves Audio Solutions IP Systems is integrated with all of the new technology in the security industry, the Public addressing (PA) systems and intercom systems are...

A SMARTER VIDEO MANAGEMENT SYSTEM TECHNOLOGY FOR LARGE SCALE OPERATIONS. Video management software  (VMS) is the brain of a video surveillance solutions and a  smart VMS can create an...
SEE ALL
Address: Aziziya Commercial Complex, Al-Aziziya, Doha, Qatar
+974 4468 5049
+974 6624 4699